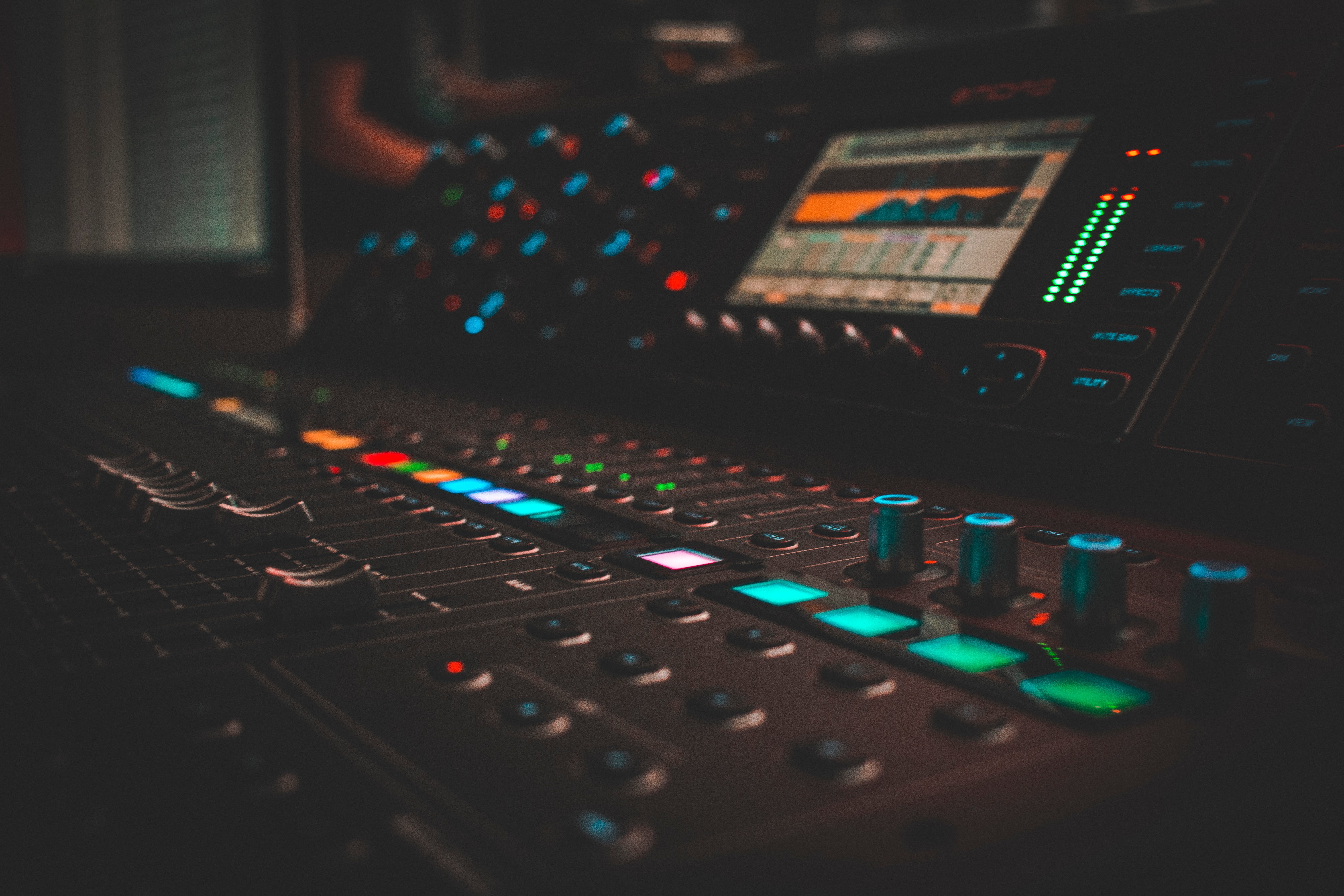 Minimalist music production camp
Do your recordings fall flat? Do you struggle to get the sound you hear on the Radio? If you want to take your music production skills to new heights, read on.
After a decade of obsessive research and publishing music online, I've unlocked many secrets to audio processing, and I'm ready to share all my learnings with you. In the last decade, I have mixed and produced over 30+ songs and 3 full length albums.
Immersive music production camp (4-sessions) for artists, musicians, and producers
Over just 10 hours total, you'll go from recording amateur to production pro. I'll demystify gear, software, mixing, mastering - everything you need to create polished, radio-ready / Spotify / Gram ready music.
Here's what you'll get:
Hands-on experience with industry tools
Recording/editing vocals, instruments, beats
Equalization, compression, reverb, and more
Mixing and prepping tracks for release
1-on-1 guidance tailored to your goals
Access to my studio and equipment
A finished, professional-quality song
Entry into an exclusive community of artists
For years, I've helped artists just like you and me take their projects to the next level.
Listen to my work ⬇️
Sessions can be attended in-person(preferred) or remotely via video conference.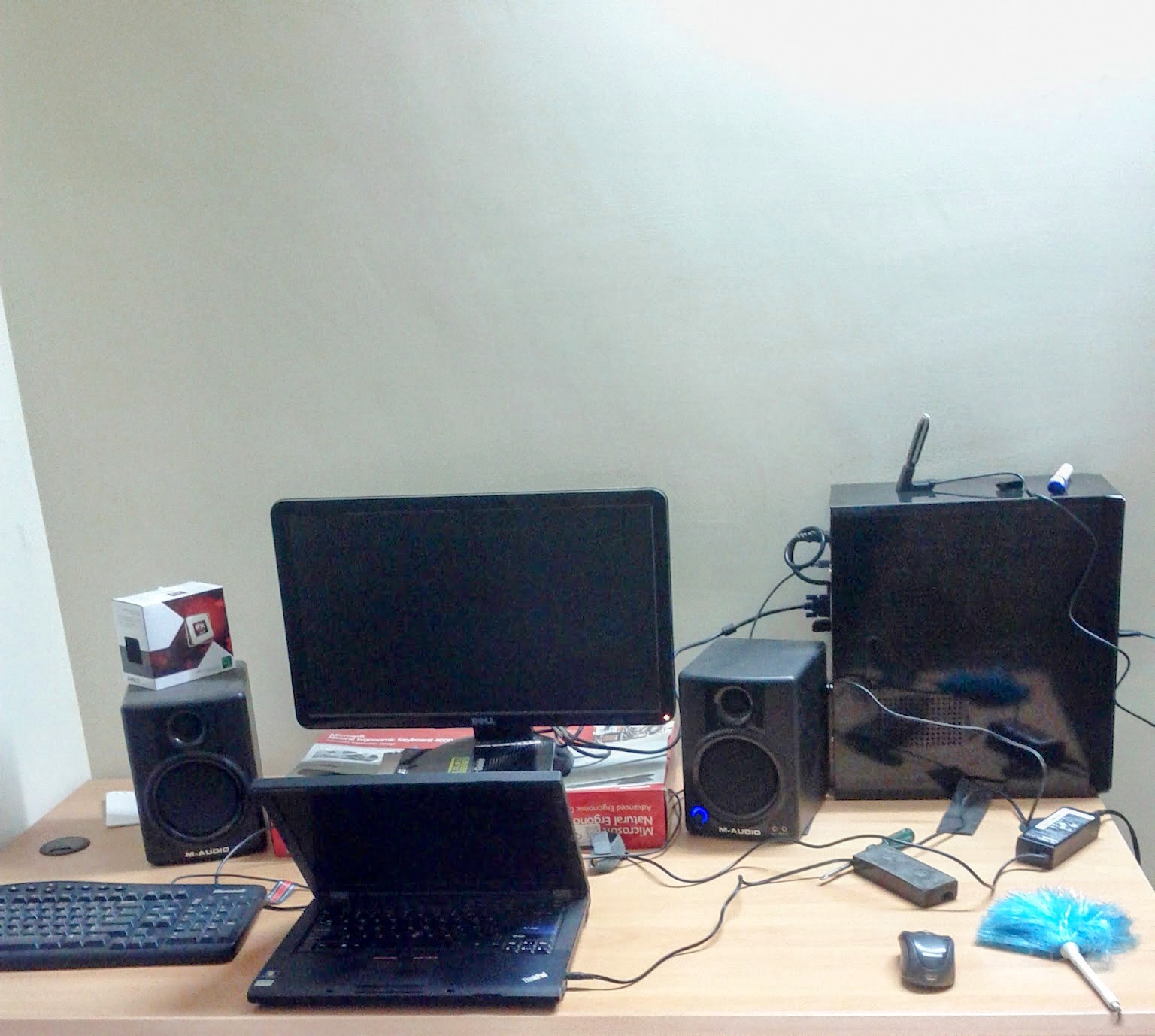 My first music production setup from 2012.
---
What is covered?
Session 1 (2.5 hours):
The first session is the easiest. Recording & music theory fundamentals: Which mic, interfaces, and gear to use to get the sound you want? We'll also cover how to manipulate sound in Ableton - chopping, slicing, copy pasting, drawing notes etc
Explore our DAW of choice Ableton (or other DAW of your choice e.g. GarageBand, Reaper, Audacity) and familiarize ourselves with some of the common controls, and settings. Key takeaways from this session are:
Music theory and songs fundamentals
Recording vocals and instruments
Microphone techniques and gear
Live Sound mixing and gear
Intro to Multitrack recording & manipulation using a DAW.
Session 2 (2.5 hours):
Second session focuses on We'll also cover how to manipulate sound in Ableton - chopping, slicing, copy pasting, drawing notes etc. Key takeaways from this session includes.
Establishing tempo, key, sounds, and structure
Editing and manipulating audio
MIDI programming and virtual instruments
Equalization, compression, reverb, and FX
Session 3 (2.5 hours):
Third session focuses on the mixing process I employ. Every person mixes their music differently, and you'll understand why. Understand levels, testing, and achieving great production quality. We'll end with how to prepare mixed tracks to be mastered. Key takeaways include.
The mixing process
Setting levels, panning, FX
Achieving professional sound
Preparing tracks for mastering
Finally, Session 4 (2.5 hours):
In the last session we'll focus on how to collaborate with musicians, in person / online. How to develop your newly found skills. How do you go from idea to a song. You'll work on your song here, collaborate with cohort members and get your track ready for studio time.
Workflow and collaboration
Developing production skills
Finalizing and polishing a track
Getting feedback
---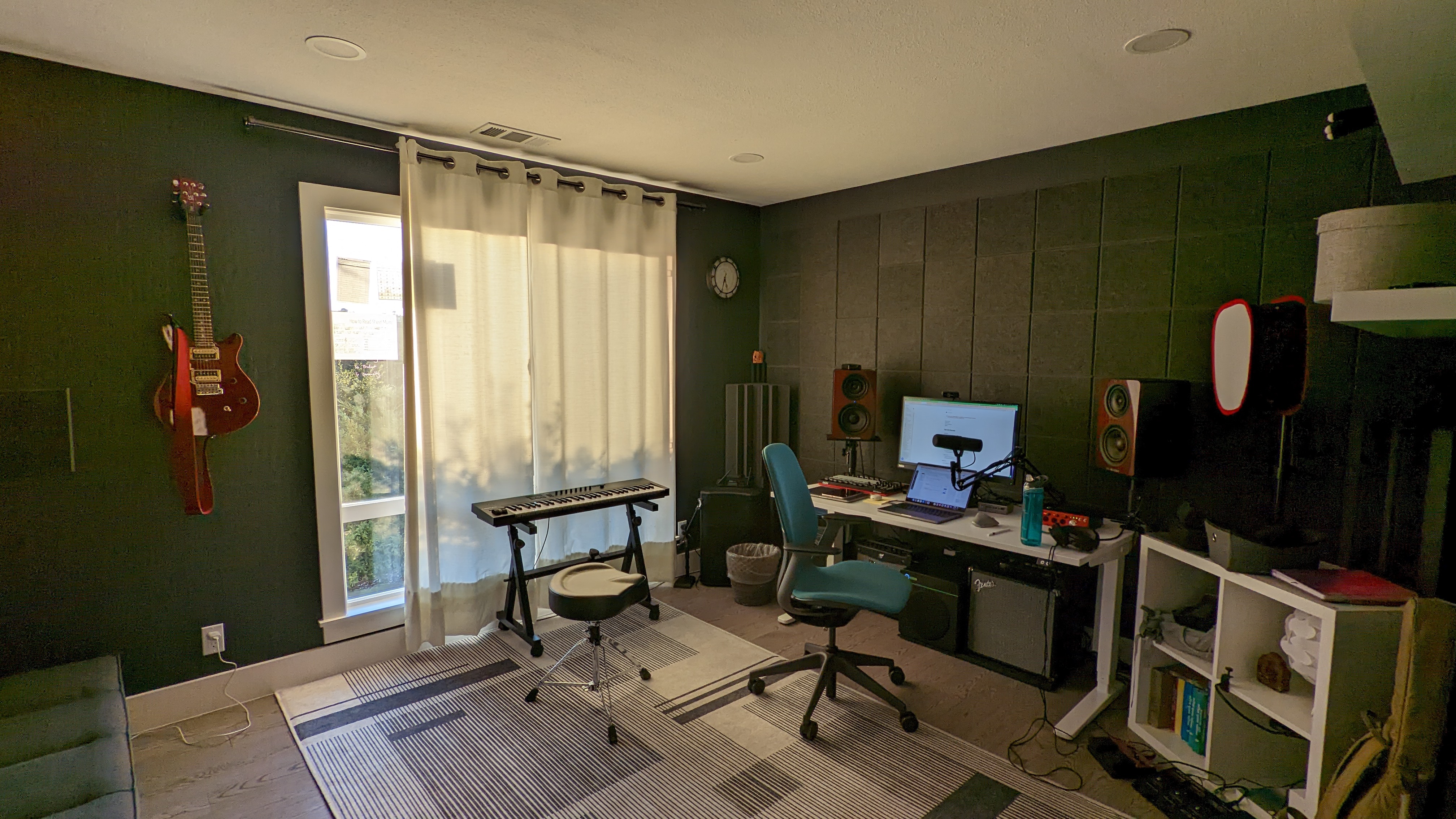 My home studio setup from 2022.
One hour in each session is dedicated to Q&A. You'll end the camp by recording and producing a track of your choosing (optional video too) at Fogtop studios in Belmont. In person attendancce is highly encouraged.
Over just 4 sessions, you'll go from music production novice to having the real-world skills to start recording and producing your music. You'll work one-on-one with your instructor in our professional studio, getting tailored guidance to meet your specific goals.
Enroll now. I look forward to welcoming you to our small music community.